Learn about our history........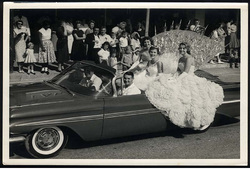 The first official festival was in 1961 but that doesn't mean that is when the magic happened. That happend in 1960 during Mansura's Centennial celebration when over 10,000 people converged on Mansura. From that weekend on, Mansura has been known as the Cochon de Lait Festival of the world. After celebrating for 12 years straight and a record crowd of 100,000 in 1972, the town of Mansura took a little break.
That all changed in 1987 when the Cochon de Lait festival was revived and Mansura has been never been the same again. We continue the tradition again this year. The
Mansura Chamber of Commerce
invites you to come pass a good time and join us for the 42nd annual Cochon de Lait Festival!
---